Posted on
3 August 2020
by
Josh Cato
Windows 10 missing features
Windows 10 has some great features inbuilt that other offerings like MacOS simply don't have, like the Windows snap feature for easy side by side or even a 4×4 grid for viewing all your apps at the same time. And the start menu quick search to find anything on your computer.
But with the preview release of the Microsoft PowerToys, it's taken that lead one step further by including some awesome features that have been missing from Windows for far too long!
As PowerToys is not built into Windows 10, you'll have to download it from Microsoft's Github page, link below:
https://github.com/microsoft/PowerToys/releases/
Below is the list of the current features, but this list is planned to grow over time!
Colour Picker
Getting the colours from an image or website on Windows is not the easiest. It's been a case of using a third party website to upload a screenshot to get the colour codes… Or use a mac with its inbuilt eyedropper tool.
But PowerTools finally gives that feature using a quick keyboard shortcut to view all the colour codes on your screen.

This feature might not interest most people, but if you're in marketing or design, it might help you out no end, it's certainly helped us!
Fancy Zones
This takes the much-loved Windows snap feature that's built into Windows 10 and adds the ability for heavy customisation to suit exactly your needs. Not just limiting the "snaps" to side-by-side or the 4×4 grid, but having any program window snap to where you want. by using the shift key whilst moving the window around.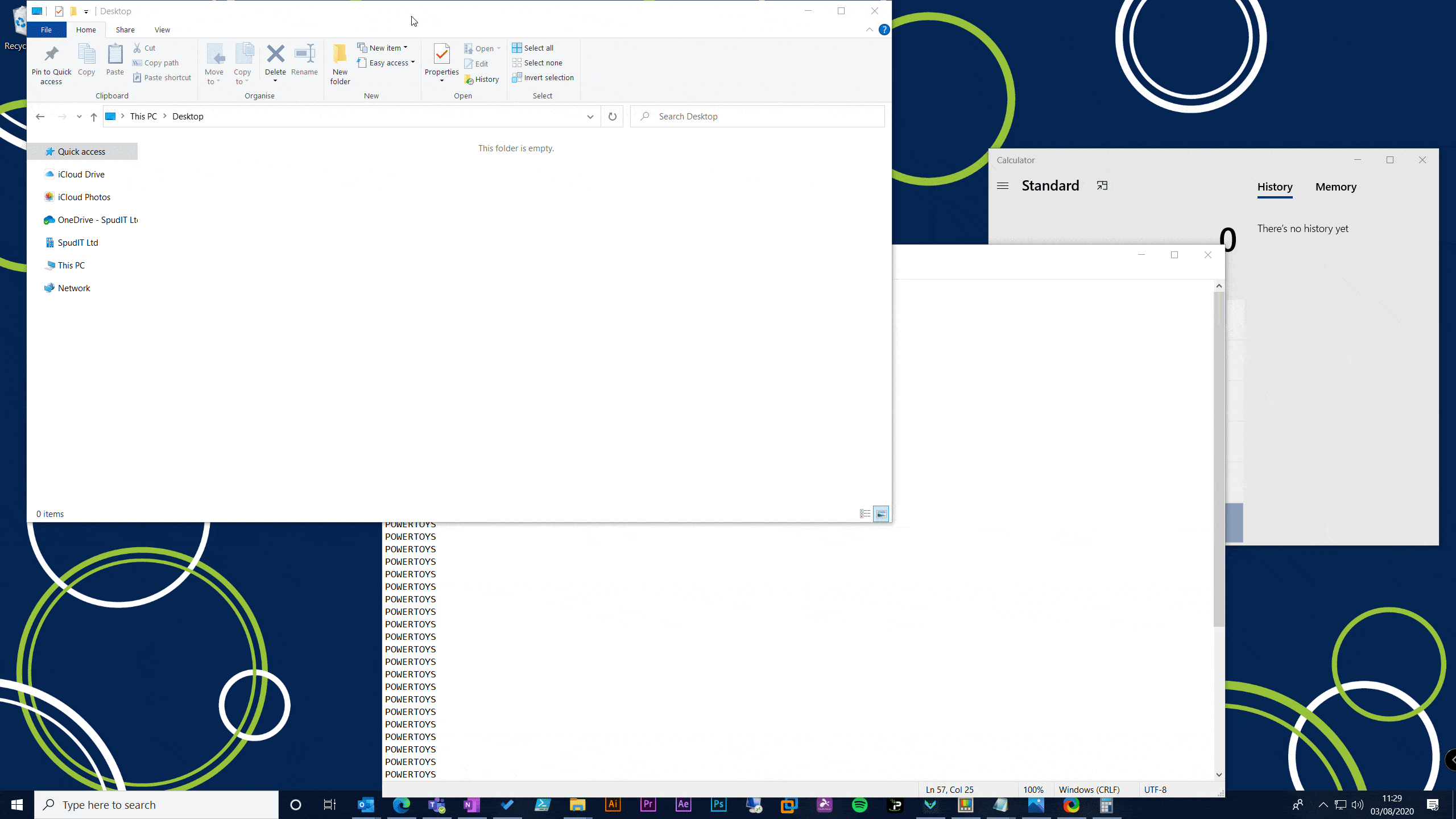 This works for people with multiple monitors too, giving custom zones per monitor for even more flexibility. This will certainly help out anyone using ultrawide monitors!
Image Resizer
Resizing images again is something that has relied on third-party websites or apps, but PowerToys brings that within Windows 10 under a simple right-click menu to easily resize any image to fit any custom dimensions.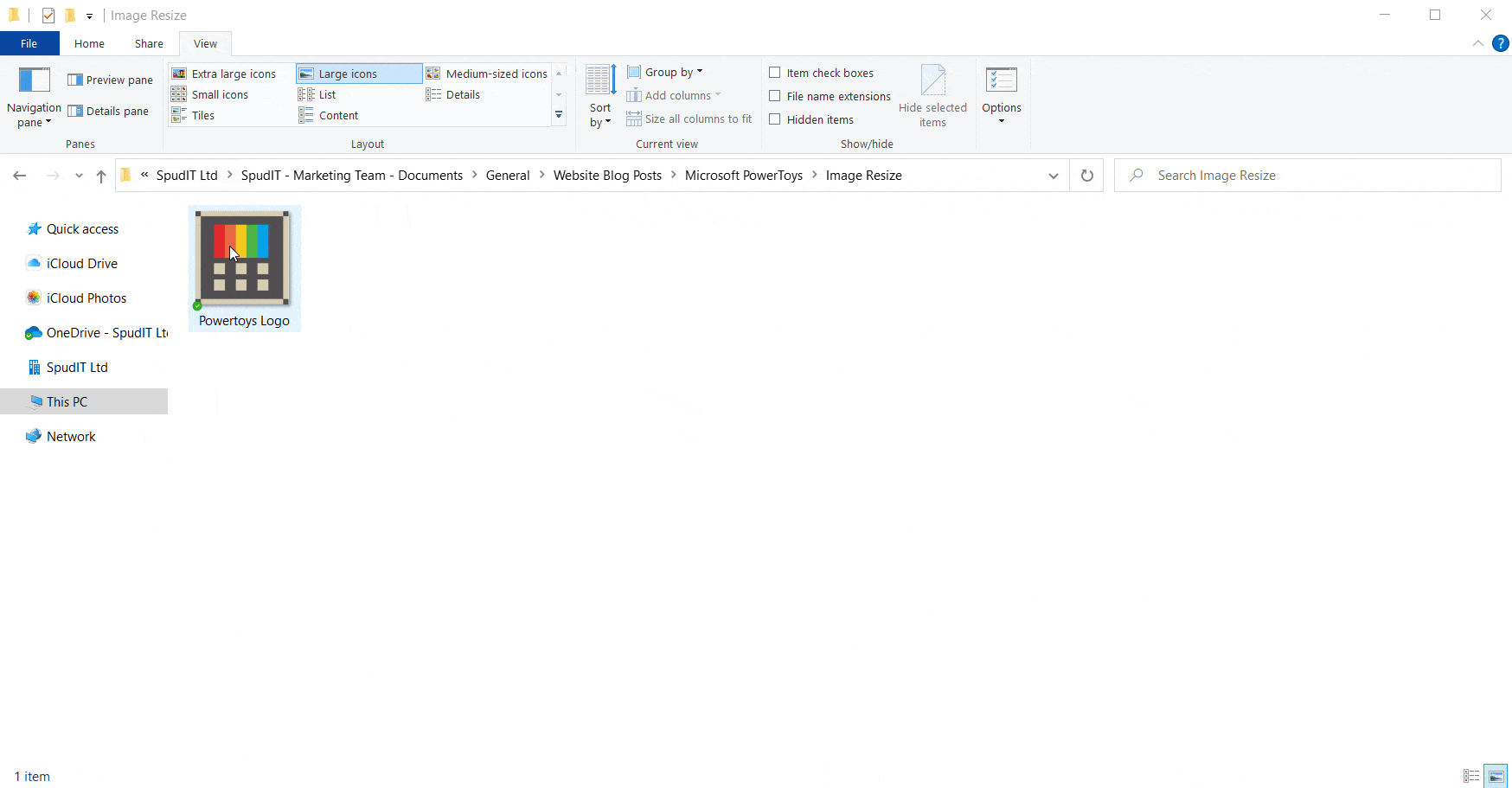 This is another feature that the marketing and design departments will really benefit from.
Keyboard Manager
Likely one for the more advanced users out there, but when is the last time you used the key just above the tab key… why not put that to good use. After all, you paid for that key! The keyboard manager allows you to completely re-assign/remap your entire keyboard and it's shortcuts to suit you. So put your keyboard to better use and start getting more efficient with your shortcuts.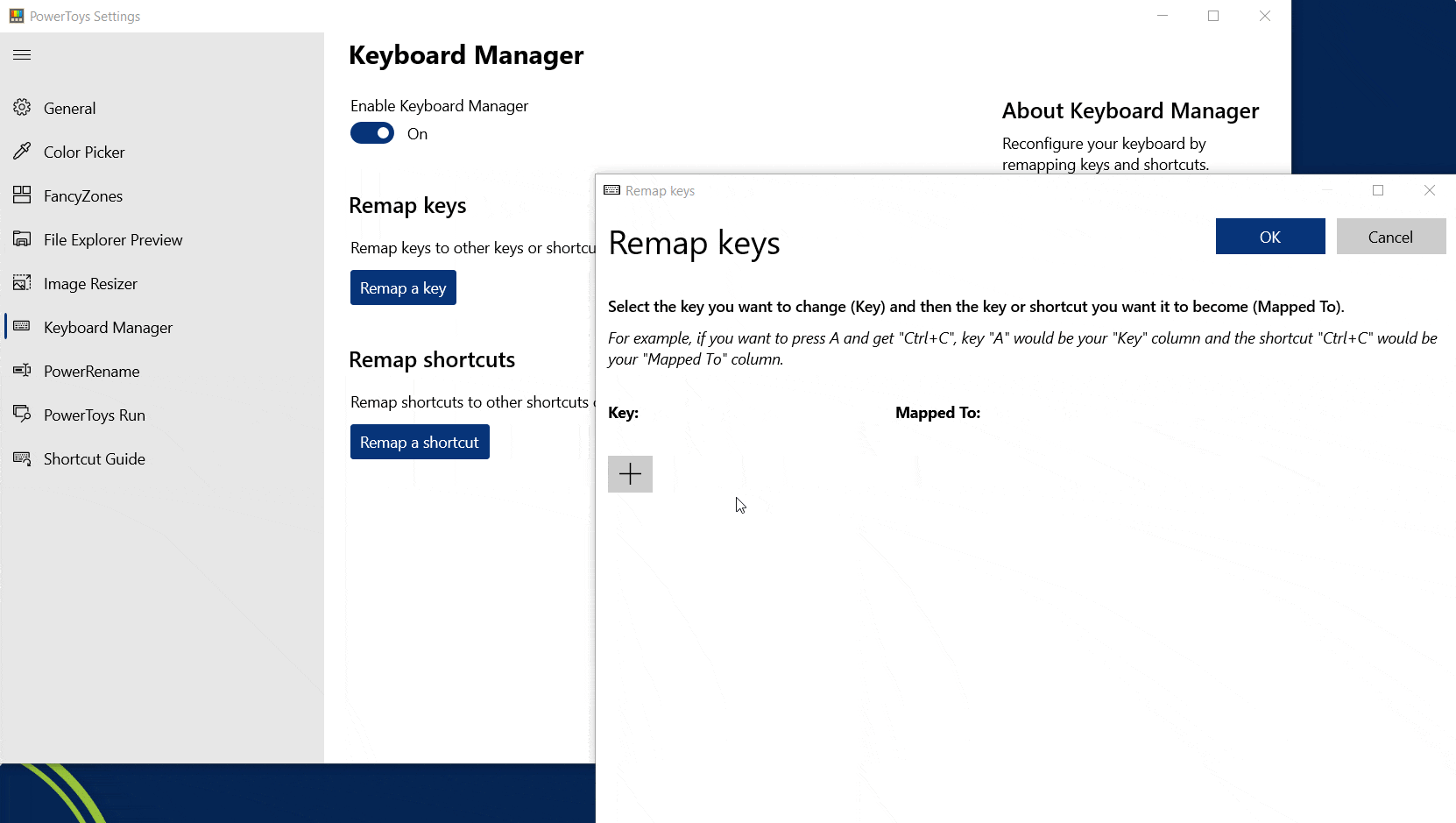 The animation just shows a quick change using that unused key to be a dedicated @ button to be used either on social media or simply helping type an e-mail address.
Power Rename
Whether it's formatting that's become a bit messy or a rename gone wrong, get bulk items updated within file explorer with another right-click item. Similar to how the office "Find & Replace" tool works.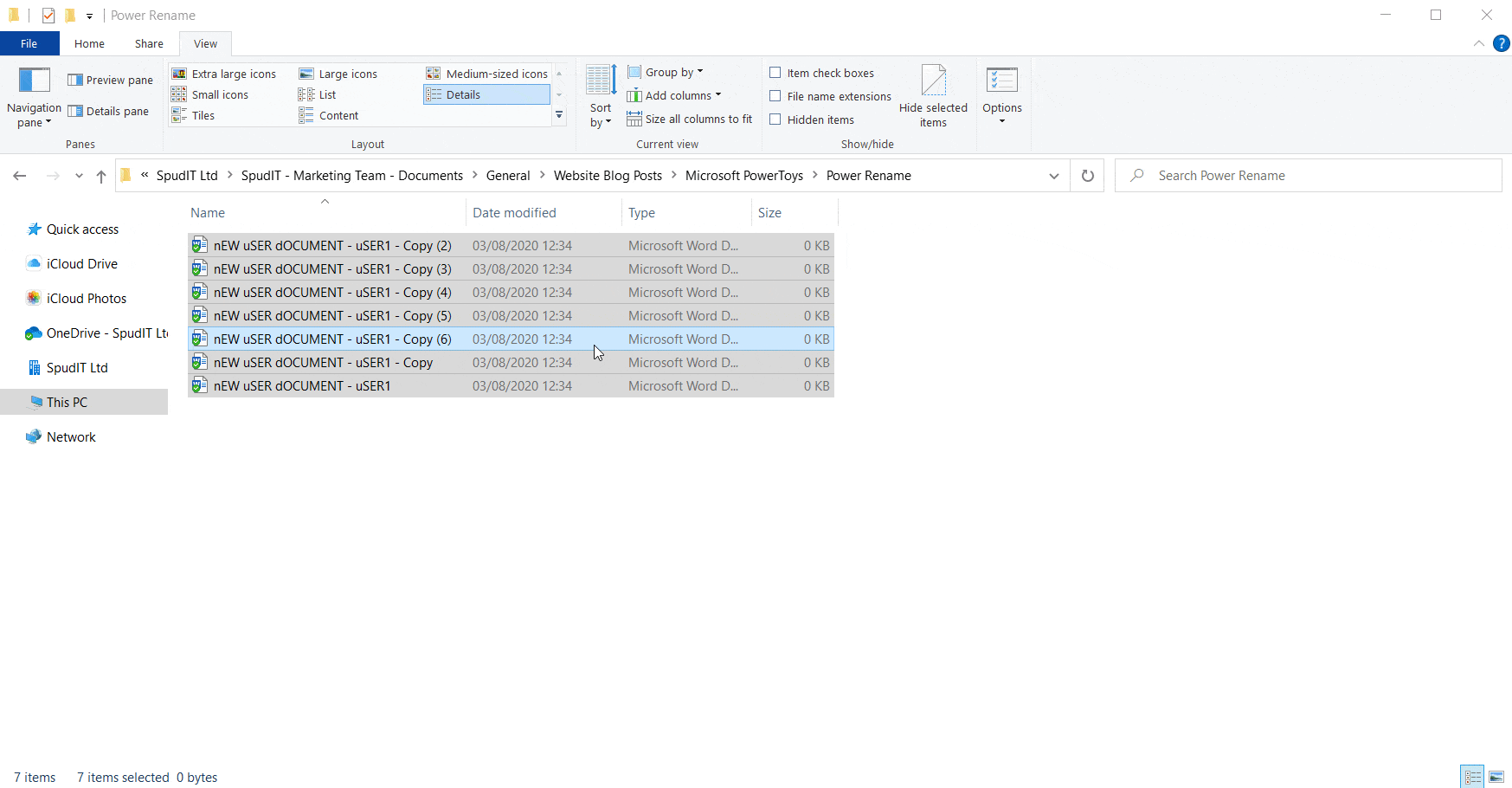 Get your file names back on track before it gets completely out of hand!
PowerToys Run
This feature is great for the power users out there that want a fast way to open files, folders and apps from the desktop. Taking on a similar look of the Mac spotlight search works very similar, but has quick access options for opening programs as an administrator, or opening the file location, all from within a simple search bar.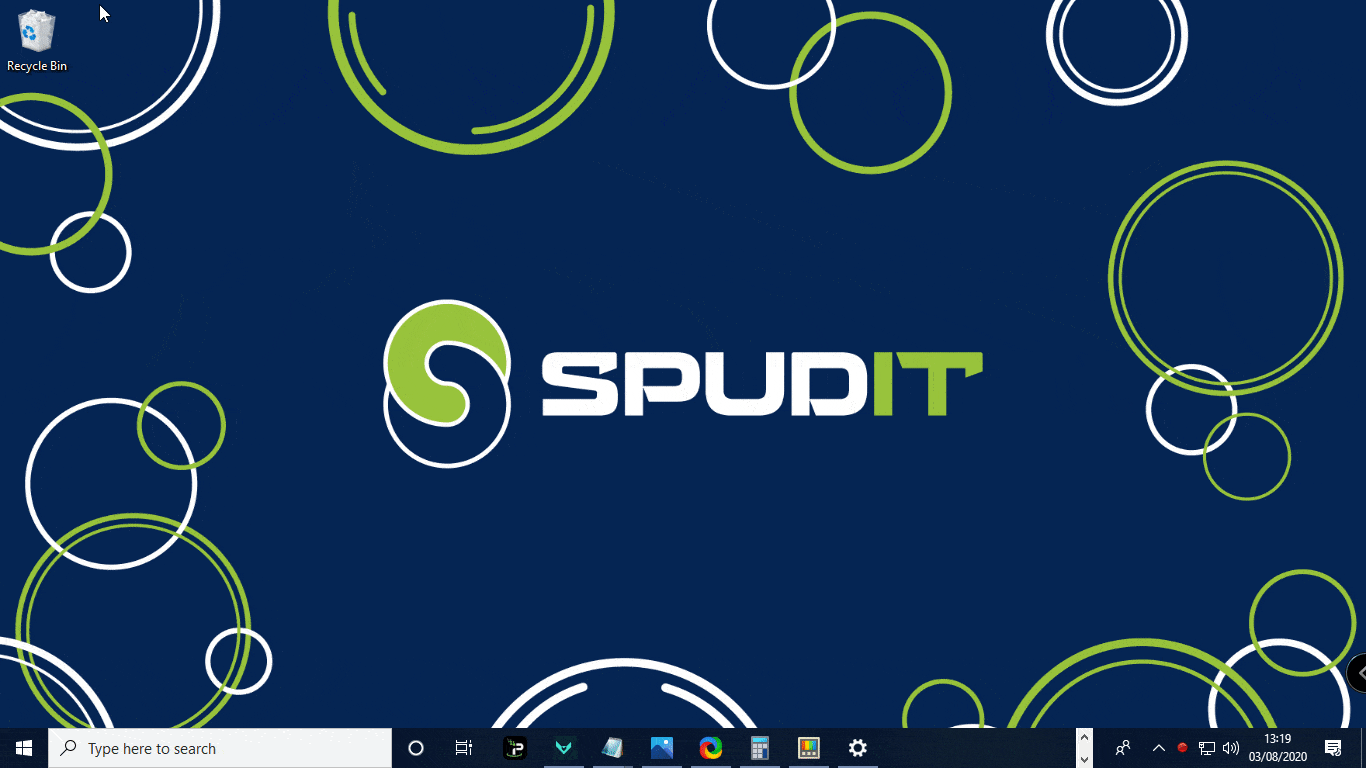 Just make sure you have indexed your files/folders, as it'll only search for areas you've told it to search through. From the animation, you can see it shows you how to add the locations in.
Shortcut Guide
Using keyboard shortcuts in programs like CTRL+C and CTRL+V for copy and paste is one you likely use on a daily basis, and is a great way to speed up how you work. But Windows also has its own set of shortcuts to speed up between those apps. But what do you need to press?
With PowerToys, holding the windows key will bring up the shortcut menu to find out what is exactly available to you. The available shortcuts can also change depending on what app you're in to get tailored shortcuts.
Conclusion
The PowerToys program might not be for everyone, but will certainly be for some. These tools help you remove the lengthy and manual processes that you might have had to do in the past. And with planned additions to this program can only get better.
If you like your IT company keeping you up to date, get in touch with SpudIT today